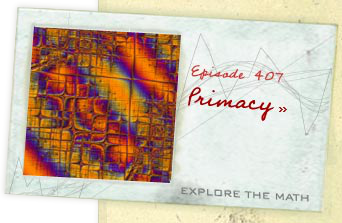 AMITA
          I'd prefer they stay focused on
          Combinatorial Matrix Theory.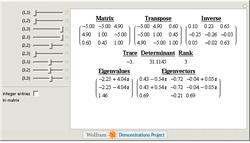 Explore a variety of different
matrix
properties with this Demonstration.


Amita spots another clue - a SHAPE painted on a door.

                    AMITA
          What do we think this shape means?

                    COLBY
          Argentina?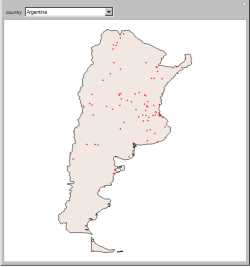 View the locations, names, and populations of major cities of any country.


                    LARRY
          I have received a tantalizing
          invitation to join the D Zero team
          searching for the Higgs boson.

                    CHARLIE
          The God Particle.  A continuation
          of your spiritual seeking as well
          as your quest for a Unified Theory?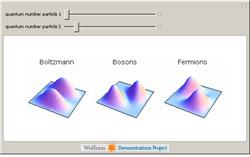 Explore quantum mechanical probability density for two particles in a one-dimensional quantum well with infinite walls. The axes correspond to the positions of the two particles.


                    CHARLIE
          Not exactly.  Think of a train yard--

AUDIENCE VISION

BIRD'S EYE VIEW OF A TRAIN YARD WITH MULTIPLE TRACKS, SEVERAL
TRAINS ROLLING THROUGH.

                    CHARLIE (V.O.) (cont'd)
          Each player is a train coming into
          the yard and we send them through.
          But when Spectre's train approaches-

A SWITCH IS THROWN-- HEAVY METAL TRACK-SWITCHERS SWING INTO
MOTION, ALIGNING WITH A DIFFERENT TRACK, JUST IN TIME FOR AN
OMINOUS-LOOKING TRAIN TO BE DIVERTED TO A DEAD END.
END AUDIENCE VISION

                    CHARLIE (cont'd)
          We sidetrack him without affecting
          the rest of the players.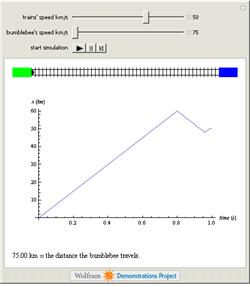 Two trains
100 kilometers apart head toward each other, each traveling at the same speed. A bumblebee zigzags from one to the other until they meet and it is squashed. How far does the bumblebee travel?


                    CHARLIE
          Please, call me Charlie.  I've
          developed a new kind of math, a
          sort of calculus of human
          relationships-- based in Decision
          Theory it can help people choose
          better partners by predicting which
          couplings have the best chance of
          success.